NSN: 2815-01-148-3771

FLYWHEEL, ENGINE

Part No: 14077157

Price Range: $27.03

Delivery Range: 2 to 5 days

Mfr/OEM/Agencies: LANDMARK MANUFACTURING, GENERAL MOTORS, AM GENERAL LLC

Suppliers: LOCKHEED MARTIN DIV MS2
Would you like to get a quote for this part?
---
Full Report for NSN: 2815-01-148-3771
NSN Identification Information
INC
Name
FIIG
AMC
Unit Weight
Unit Volume
Date Assigned
60500
FLYWHEEL, ENGINE
A526B0
1H
0
0.000
03/04/1983
Crit Code
II
RPD MRC
Demil
Demil Integ
PMIC
ADP
ESD EMI
HMIC
HCC
1
A
1
A
N
Item Name Definition
Item Name
A CIRCULAR METAL ITEM SPECIFICALLY DESIGNED TO BE ATTACHED TO THE ENGINE CRANKSHAFT. ITS PRIMARY FUNCTION IS TO COUNTERACT VARIABLE TORQUE AND REDUCE THE FLUCTUATIONS OF AN INTERNAL COMBUSTION ENGINE, DURING CHANGES OF SPEED. IT MAY HAVE A RING GEAR, COOLING FAN, PERMANENT MAGNETS, AND/OR THE LIKE. EXCLUDES ENGINE CRANKSHAFT DAMPERS.
MCRD

| CAGE | Name | P/N | DAC | MSDS | RN | RNAAC | RNFC | RNSC | RNJC | SADC | HCC |
| --- | --- | --- | --- | --- | --- | --- | --- | --- | --- | --- | --- |
| 7X677 | GENERAL MOTORS | 14077157 | | | 23 | AX | | | | | |
| 7X677 | GENERAL MOTORS | 14077157 | 6 | | 23 | AX | | | | | |
| 11862 | GENERAL MOTORS CORP CHEVROLET MOTOR DIV SPECIAL PRODUCTS DEP | 14061682 | | | 95 | AX | | | | | |
| 11862 | GENERAL MOTORS CORP CHEVROLET MOTOR DIV SPECIAL PRODUCTS DEP | 14077157 | | | 95 | AX | | | | | |
| 11862 | GENERAL MOTORS CORP CHEVROLET MOTOR DIV SPECIAL PRODUCTS DEP | 14061682 | A | | 95 | AX | | B | | | |
| 11862 | GENERAL MOTORS CORP CHEVROLET MOTOR DIV SPECIAL PRODUCTS DEP | 14077157 | 6 | | 95 | AX | | B | | | |
| 79398 | WOHLERT CORP | GL0-122 | | | 95 | AX | | | | | |
| 79398 | WOHLERT CORP | GL0-122 | E | | 95 | ZZ | | B | | | |
| 9009H | INSPEKTORAT WSPARCIA SIL ZBROJNYCH | 2815PL0860712 | | | 95 | | | | | | |
| SCY13 | E.C.A ETABLISSEMENT CENTRAL DES APPROVISIONNEMENTS DES FORCE | 2815011483771 | | | 95 | | | | | | |
| SCY13 | E.C.A ETABLISSEMENT CENTRAL DES APPROVISIONNEMENTS DES FORCE | 2815011483771 | 9 | | 95 | YP | 4 | B | | | |
| 34623 | AM GENERAL LLC | 5740037 | | | 25 | AX | | | | | |
| 34623 | AM GENERAL LLC | 5740037 | 6 | | 25 | AX | | | | | |
| 5U403 | LANDMARK MANUFACTURING CORPORATION | 10042 | | | 25 | AX | | | | | |
| 5U403 | LANDMARK MANUFACTURING CORPORATION | 10042 | A | | 25 | ZZ | | | | | |
Approved Part Numbers

| CAGE | Name | P/N | Last Date Approved |
| --- | --- | --- | --- |
| 34623 | AM GENERAL LLC | 5740037 | 04/08/2011 |
| 5U403 | LANDMARK MANUFACTURING CORPORA | 10042 | 04/08/2011 |
| 7X677 | GENERAL MOTORS | 14077157 | 04/08/2011 |
| 34623 | AM GENERAL LLC | 5740037 | 03/19/2011 |
| 5U403 | LANDMARK MANUFACTURING CORPORA | 10042 | 03/19/2011 |
| 7X677 | GENERAL MOTORS | 14077157 | 03/19/2011 |
| 34623 | AM GENERAL LLC | 5740037 | 01/14/2011 |
| 5U403 | LANDMARK MANUFACTURING CORPORA | 10042 | 01/14/2011 |
| 7X677 | GENERAL MOTORS | 14077157 | 01/14/2011 |
| 34623 | AM GENERAL LLC | 5740037 | 12/17/2010 |
| 5U403 | LANDMARK MANUFACTURING CORPORA | 10042 | 12/17/2010 |
| 7X677 | GENERAL MOTORS | 14077157 | 12/17/2010 |
| 34623 | AM GENERAL LLC | 5740037 | 09/04/2010 |
| 5U403 | LANDMARK MANUFACTURING CORPORA | 10042 | 09/04/2010 |
| 7X677 | GENERAL MOTORS | 14077157 | 09/04/2010 |
| 34623 | AM GENERAL LLC | 5740037 | 05/29/2010 |
| 5U403 | LANDMARK MANUFACTURING CORPORA | 10042 | 05/29/2010 |
| 7X677 | GENERAL MOTORS | 14077157 | 05/29/2010 |
| 34623 | AM GENERAL LLC | 5740037 | 11/24/2008 |
| 5U403 | LANDMARK MANUFACTURING CORPORA | 10042 | 11/24/2008 |
| 7X677 | GENERAL MOTORS | 14077157 | 11/24/2008 |
| 34623 | AM GENERAL LLC | 5740037 | 11/21/2008 |
| 5U403 | LANDMARK MANUFACTURING CORPORA | 10042 | 11/21/2008 |
| 7X677 | GENERAL MOTORS | 14077157 | 11/21/2008 |
| 34623 | AM GENERAL LLC | 5740037 | 09/01/2007 |
| 5U403 | LANDMARK MANUFACTURING CORPORA | 10042 | 09/01/2007 |
| 7X677 | GENERAL MOTORS | 14077157 | 09/01/2007 |
| 5U403 | LANDMARK MANUFACTURING CORPORA | 10042 | 08/25/2007 |
| 7X677 | GENERAL MOTORS | 14077157 | 08/25/2007 |
Management

| MOE | SOS | AAC | QUP | Price | Comments | Eff. Date | CIIC | SLC | REP | USC |
| --- | --- | --- | --- | --- | --- | --- | --- | --- | --- | --- |
| DN,DA,DS,DM,DF | SMS | H | 1 EA | 32.3400 | | | U | 0 | Z | |
| DM,DF,DN,DA,DS | SMS | D | 1 EA | 32.3400 | | | U | 0 | Z | |
| DS,DA,DF,DM,DN | SMS | H | 1 EA | 31.9500 | | | | | | |
| DN,DF,DA,DS,DM | SMS | H | 1 EA | 38.8100 | | | | | | |
Acquisition Summary
History and Forecast

Past Sales

| Decade | Qty Total | Sales Total |
| --- | --- | --- |
| 1980s | 307 | $17,224.94 |
| 1990s | 79,483 | $1,450,276.30 |
| 2000s | 89,353 | $1,794,953.88 |
| 2010s | 3,530 | $94,181.18 |
Acquisition Forecast

| Year | 1st Quarter | 2nd Quarter | 3rd Quarter | 4th Quarter | Total |
| --- | --- | --- | --- | --- | --- |
| 2011 | 998 | 897 | 770 | 701 | 3,366 |
| 2012 | 635 | 569 | 502 | 434 | 2,140 |
| 2013 | 367 | 0 | 0 | 0 | 367 |
RFQ History

| Agency | Solicitation | Purch. Req. | Quantity | Closed | SBSA | Buyer | Phone | Status |
| --- | --- | --- | --- | --- | --- | --- | --- | --- |
| DSCC-C | SPM7L511T4284 | SEE BELOW | 51EA | 04/25/2011 | | DSCC-FLDB.Inquiry@dl | (614) 692-3993 | Awarded |
| DSCC-C | SPM7L511T3851 | SEE BELOW | 57EA | 04/04/2011 | | DSCC-FLDB.Inquiry@dl | (614) 692-3993 | Awarded |
| DSCC-C | SPM7L511T2500 | 0040333292 | 52EA | 02/01/2011 | | DSCC-FLDB.Inquiry@dl | (614) 692-3993 | Canceled |
| DSCC-C | SPM7L511T1987 | 0040215693 | 2EA | 01/03/2011 | | DSCC-FLDB.Inquiry@dl | (614) 692-3993 | Awarded |
| DSCC-C | SPM7L510T8577 | 0027760416 | 10EA | 09/21/2010 | | DSCC-FLDB.Inquiry@dl | (614) 692-3993 | Awarded |
| DSCC-C | SPM7L510T5730 | 0026782822 | 2EA | 06/15/2010 | | DSCC-FLDB.Inquiry@dl | (614) 692-3993 | Canceled |
| DSCC-C | SPM7L509T1190 | 0020666860 | 1037EA | 12/08/2008 | | Paulette Poole | (614) 692-3678 | |
| DSCC-C | SPM7L507T6597 | 0016171603 | 227EA | 08/27/2007 | | Donald Tam | (614) 692-1592 | Awarded |
| DSCC-C | SPM7L507T4282 | 0015349835 | 1069EA | 06/01/2007 | | Johnson Mary | (614) 692-3760 | |
| DSCC-C | SPM7L507T3567 | 0014973446 | 2094EA | 04/24/2007 | | Shirey Georgia | (614) 692-4756 | |
| DSCC-C | SPM7L507T2846 | 0014658199 | 3951EA | 03/23/2007 | | Georgia Shirey | (614) 692-4756 | Awarded |
| DSCC-C | SPM7L507T2157 | 0014278813 | 3000EA | 02/14/2007 | | Shirey Georgia | (614) 692-4756 | |
| DSCC-C | SPM7L507T1322 | 0013990527 | 3000EA | 01/04/2007 | | Shirey Georgia | (614) 692-4756 | |
| DSCC-C | SPM7L507T1030 | 0013845194 | 1500EA | 12/21/2006 | | Mary Johnson | (614) 692-3760 | Awarded |
| DSCC-C | SPM7L207T0949 | 0013622641 | 1EA | 11/22/2006 | | Daskalakis Adele | (614) 692-5693 | |
| DSCC-C | SPM7L507T0154 | 0013441165 | 6EA | 10/30/2006 | | Harvey Mary | (614) 692-4671 | |
| DSCC-C | SP070005TKX29 | YPC05154000214 | 1624EA | 06/03/2005 | | | | |
Award History

| CAGE | Name | Contract | Quantity | Bid Date | Award Date | FOB | Price | Value | Deliv | Can/Mod | PN/CAGE Quoted |
| --- | --- | --- | --- | --- | --- | --- | --- | --- | --- | --- | --- |
| 02769 | LOCKHEED MARTIN CORP | SPM7LX11D9027 | 3 EA | | 05/12/2011 | | 27.03000 | 81.09 | 4 | | 5U403 10042 |
| 02769 | LOCKHEED MARTIN CORP | SPM7LX11D9027 | 5 EA | | 05/11/2011 | D | 27.03000 | 135.15 | 2 | | 5U403 10042 |
| 02769 | LOCKHEED MARTIN CORP | SPM7LX11D9027 | 1 EA | | 05/11/2011 | D | 27.03000 | 27.03 | 5 | | 5U403 10042 |
| 02769 | LOCKHEED MARTIN CORP | SPM7LX11D9027 | 1 EA | | 05/10/2011 | D | 27.03000 | 27.03 | 2 | | 5U403 10042 |
| 34623 | AM GENERAL, LLC | SPM7L511M1821 | 57 EA | | 05/09/2011 | O | 28.02000 | 1597.14 | 150 | | AM GENERAL, LLC (34623 |
| 02769 | LOCKHEED MARTIN CORP | SPM7LX11D9027 | 1 EA | | 05/09/2011 | D | 27.03000 | 27.03 | 4 | | 5U403 10042 |
| 02769 | LOCKHEED MARTIN CORP | SPM7LX11D9027 | 1 EA | | 05/09/2011 | D | 27.03000 | 27.03 | 2 | | 5U403 10042 |
| 02769 | LOCKHEED MARTIN CORP | SPM7LX11D9027 | 1 EA | | 05/09/2011 | D | 27.03000 | 27.03 | 2 | | 5U403 10042 |
| 02769 | LOCKHEED MARTIN CORP | SPM7LX11D9027 | 1 EA | | 05/06/2011 | D | 27.03000 | 27.03 | 3 | | 5U403 10042 |
| 02769 | LOCKHEED MARTIN CORP | SPM7LX11D9027 | 1 EA | | 05/06/2011 | D | 27.03000 | 27.03 | 3 | | 5U403 10042 |
| 02769 | LOCKHEED MARTIN CORP | SPM7LX11D9027 | 1 EA | | 05/06/2011 | D | 27.03000 | 27.03 | 3 | | 5U403 10042 |
| 02769 | LOCKHEED MARTIN CORP | SPM7LX11D9027 | 1 EA | | 05/06/2011 | D | 27.03000 | 27.03 | 4 | | 5U403 10042 |
| 02769 | LOCKHEED MARTIN CORP | SPM7LX11D9027 | 10 EA | | 05/06/2011 | D | 27.03000 | 270.30 | 3 | | 5U403 10042 |
| 02769 | LOCKHEED MARTIN CORP | SPM7LX11D9027 | 1 EA | | 05/05/2011 | D | 27.03000 | 27.03 | 4 | | 5U403 10042 |
| 02769 | LOCKHEED MARTIN CORP | SPM7LX11D9027 | 1 EA | | 05/05/2011 | D | 27.03000 | 27.03 | 4 | | 5U403 10042 |
| 02769 | LOCKHEED MARTIN CORP | SPM7LX11D9027 | 4 EA | | 05/05/2011 | D | 27.03000 | 108.12 | 4 | | 5U403 10042 |
| 02769 | LOCKHEED MARTIN CORP | SPM7LX11D9027 | 5 EA | | 05/05/2011 | D | 27.03000 | 135.15 | 4 | | 5U403 10042 |
| 02769 | LOCKHEED MARTIN CORP | SPM7LX11D9027 | 1 EA | | 05/03/2011 | D | 27.03000 | 27.03 | 6 | | 5U403 10042 |
| 34623 | AM GENERAL, LLC | SPM7L511M1928 | 51 EA | | 05/03/2011 | O | 27.01000 | 1377.51 | 150 | | AM GENERAL, LLC (34623 |
| 02769 | LOCKHEED MARTIN CORP | SPM7LX11D9027 | 1 EA | | 05/03/2011 | D | 27.03000 | 27.03 | 2 | | 5U403 10042 |
| 02769 | LOCKHEED MARTIN CORP | SPM7LX11D9027 | 1 EA | | 05/03/2011 | D | 27.03000 | 27.03 | 2 | | 5U403 10042 |
| 02769 | LOCKHEED MARTIN CORP | SPM7LX11D9027 | 1 EA | | 05/03/2011 | D | 27.03000 | 27.03 | 6 | | 5U403 10042 |
| 02769 | LOCKHEED MARTIN CORP | SPM7LX11D9027 | 1 EA | | 05/03/2011 | D | 27.03000 | 27.03 | 6 | | 5U403 10042 |
| 02769 | LOCKHEED MARTIN CORP | SPM7LX09D9039 | 1 EA | | 04/28/2011 | D | 27.03000 | 27.03 | 4 | | 5U403 10042 |
| 02769 | LOCKHEED MARTIN DIV | SPM7LX09D9039 | 40 EA | | 04/27/2011 | D | 27.03000 | 1081.20 | 2 | | 5U403 10042 |
| 02769 | LOCKHEED MARTIN CORP | SPM7LX09D9039 | 11 EA | | 04/26/2011 | D | 27.03000 | 297.33 | 2 | | 5U403 10042 |
| 02769 | LOCKHEED MARTIN CORP | SPM7LX09D9039 | 1 EA | | 04/26/2011 | D | 27.03000 | 27.03 | 6 | | 5U403 10042 |
| 02769 | LOCKHEED MARTIN CORP | SPM7LX09D9039 | 1 EA | | 04/15/2011 | D | 27.03000 | 27.03 | 4 | | 5U403 10042 |
| 02769 | LOCKHEED MARTIN CORP | SPM7LX09D9039 | 1 EA | | 04/15/2011 | D | 27.03000 | 27.03 | 4 | | 5U403 10042 |
| 02769 | LOCKHEED MARTIN CORP | SPM7LX09D9039 | 2 EA | | 04/14/2011 | D | 27.03000 | 54.06 | 4 | | 5U403 10042 |
| 5U403 | LANDMARK MANUFACTURI | SPM7L411M1916 | 52 EA | | 04/14/2011 | O | 22.00000 | 1144.00 | 20 | | AM GENERAL, LLC (34623 |
| 02769 | LOCKHEED MARTIN CORP | SPM7LX09D9039 | 2 EA | | 04/14/2011 | D | 27.03000 | 54.06 | 4 | | 5U403 10042 |
| 5UMJ8 | PARTZ NETWORK | SPM7L511M1783 | 10 EA | | 04/13/2011 | O | 35.19000 | 351.90 | 45 | | AM GENERAL, LLC (34623 |
| 02769 | LOCKHEED MARTIN CORP | SPM7LX09D9039 | 20 EA | | 04/13/2011 | D | 27.03000 | 540.60 | 2 | | 5U403 10042 |
| 02769 | LOCKHEED MARTIN CORP | SPM7LX09D9039 | 1 EA | | 04/13/2011 | D | 27.03000 | 27.03 | 5 | | 5U403 10042 |
| 02769 | LOCKHEED MARTIN CORP | SPM7LX09D9039 | 4 EA | | 04/13/2011 | D | 27.03000 | 108.12 | 5 | | 5U403 10042 |
| 02769 | LOCKHEED MARTIN CORP | SPM7LX09D9039 | 3 EA | | 04/13/2011 | D | 27.03000 | 81.09 | 5 | | 5U403 10042 |
| 02769 | LOCKHEED MARTIN CORP | SPM7LX09D9039 | 3 EA | | 04/13/2011 | D | 27.03000 | 81.09 | 5 | | 5U403 10042 |
| 02769 | LOCKHEED MARTIN CORP | SPM7LX09D9039 | 1 EA | | 04/13/2011 | D | 27.03000 | 27.03 | 5 | | 5U403 10042 |
| 02769 | LOCKHEED MARTIN CORP | SPM7LX09D9039 | 1 EA | | 04/12/2011 | D | 27.03000 | 27.03 | 6 | | 5U403 10042 |
| 02769 | LOCKHEED MARTIN CORP | SPM7LX09D9039 | 4 EA | | 04/12/2011 | D | 27.03000 | 108.12 | 6 | | 5U403 10042 |
| 02769 | LOCKHEED MARTIN CORP | SPM7LX09D9039 | 1 EA | | 04/12/2011 | D | 27.03000 | 27.03 | 2 | | 5U403 10042 |
| 02769 | LOCKHEED MARTIN DIV | SPM7LX09D9039 | 1 EA | | 04/11/2011 | D | 27.03000 | 27.03 | 2 | | 5U403 10042 |
| 02769 | LOCKHEED MARTIN DIV | SPM7LX09D9039 | 1 EA | | 04/11/2011 | D | 27.03000 | 27.03 | 4 | | 5U403 10042 |
| 02769 | LOCKHEED MARTIN DIV | SPM7LX09D9039 | 1 EA | | 04/11/2011 | D | 27.03000 | 27.03 | 4 | | 5U403 10042 |
| 02769 | LOCKHEED MARTIN DIV | SPM7LX09D9039 | 1 EA | | 04/11/2011 | D | 27.03000 | 27.03 | 2 | | 5U403 10042 |
| 02769 | LOCKHEED MARTIN DIV | SPM7LX09D9039 | 1 EA | | 04/08/2011 | D | 27.03000 | 27.03 | 3 | | 5U403 10042 |
| 02769 | LOCKHEED MARTIN DIV | SPM7LX09D9039 | 1 EA | | 04/08/2011 | D | 27.03000 | 27.03 | 4 | | 5U403 10042 |
| 02769 | LOCKHEED MARTIN CORP | SPM7LX09D9039 | 2 EA | | 04/07/2011 | D | 27.03000 | 54.06 | 4 | | 5U403 10042 |
| 02769 | LOCKHEED MARTIN DIV | SPM7LX09D9039 | 5 EA | | 04/07/2011 | D | 27.03000 | 135.15 | 4 | | 5U403 10042 |
| 02769 | LOCKHEED MARTIN DIV | SPM7LX09D9039 | 2 EA | | 04/07/2011 | D | 27.03000 | 54.06 | 4 | | 5U403 10042 |
| 02769 | LOCKHEED MARTIN DIV | SPM7LX09D9039 | 1 EA | | 04/07/2011 | D | 27.03000 | 27.03 | 4 | | 5U403 10042 |
| 02769 | LOCKHEED MARTIN CORP | SPM7LX09D9039 | 1 EA | | 04/07/2011 | D | 27.03000 | 27.03 | 4 | | 5U403 10042 |
| 02769 | LOCKHEED MARTIN DIV | SPM7LX09D9039 | 1 EA | | 04/06/2011 | D | 27.03000 | 27.03 | 5 | | 5U403 10042 |
| 02769 | LOCKHEED MARTIN DIV | SPM7LX09D9039 | 2 EA | | 04/06/2011 | D | 27.03000 | 54.06 | 2 | | 5U403 10042 |
| 02769 | LOCKHEED MARTIN CORP | SPM7LX09D9039 | 1 EA | | 04/05/2011 | D | 27.03000 | 27.03 | 6 | | 5U403 10042 |
| 02769 | LOCKHEED MARTIN DIV | SPM7LX09D9039 | 1 EA | | 04/04/2011 | D | 27.03000 | 27.03 | 4 | | 5U403 10042 |
| 02769 | LOCKHEED MARTIN DIV | SPM7LX09D9039 | 1 EA | | 04/04/2011 | D | 27.03000 | 27.03 | 2 | | 5U403 10042 |
| 02769 | LOCKHEED MARTIN DIV | SPM7LX09D9039 | 2 EA | | 04/03/2011 | D | 27.03000 | 54.06 | 4 | | 5U403 10042 |
| 02769 | LOCKHEED MARTIN DIV | SPM7LX09D9039 | 14 EA | | 04/02/2011 | D | 27.03000 | 378.42 | 4 | | 5U403 10042 |
| 02769 | LOCKHEED MARTIN DIV | SPM7LX09D9039 | 8 EA | | 04/01/2011 | D | 27.03000 | 216.24 | 4 | | 5U403 10042 |
| 02769 | LOCKHEED MARTIN CORP | SPM7LX09D9039 | 1 EA | | 03/31/2011 | D | 27.03000 | 27.03 | 4 | | 5U403 10042 |
| 02769 | LOCKHEED MARTIN CORP | SPM7LX09D9039 | 1 EA | | 03/31/2011 | D | 27.03000 | 27.03 | 4 | | 5U403 10042 |
| 02769 | LOCKHEED MARTIN DIV | SPM7LX09D9039 | 2 EA | | 03/31/2011 | D | 27.03000 | 54.06 | 4 | | 5U403 10042 |
| 02769 | LOCKHEED MARTIN CORP | SPM7LX09D9039 | 1 EA | | 03/30/2011 | D | 27.03000 | 27.03 | 5 | | 5U403 10042 |
| 02769 | LOCKHEED MARTIN CORP | SPM7LX09D9039 | 1 EA | | 03/30/2011 | D | 27.03000 | 27.03 | 5 | | 5U403 10042 |
| 02769 | LOCKHEED MARTIN CORP | SPM7LX09D9039 | 5 EA | | 03/29/2011 | D | 27.03000 | 135.15 | 6 | | 5U403 10042 |
| 02769 | LOCKHEED MARTIN CORP | SPM7LX09D9039 | 1 EA | | 03/29/2011 | D | 27.03000 | 27.03 | 2 | | 5U403 10042 |
| 02769 | LOCKHEED MARTIN DIV | SPM7LX09D9039 | 1 EA | | 03/28/2011 | D | 27.03000 | 27.03 | 2 | | 5U403 10042 |
| 02769 | LOCKHEED MARTIN DIV | SPM7LX09D9039 | 15 EA | | 03/26/2011 | D | 27.03000 | 405.45 | 4 | | 5U403 10042 |
| 02769 | LOCKHEED MARTIN DIV | SPM7LX09D9039 | 3 EA | | 03/26/2011 | D | 27.03000 | 81.09 | 4 | | 5U403 10042 |
| 02769 | LOCKHEED MARTIN DIV | SPM7LX09D9039 | 1 EA | | 03/25/2011 | D | 27.03000 | 27.03 | 3 | | 5U403 10042 |
| 02769 | LOCKHEED MARTIN DIV | SPM7LX09D9039 | 2 EA | | 03/25/2011 | D | 27.03000 | 54.06 | 3 | | 5U403 10042 |
| 34623 | AM GENERAL LLC | SPM7L511V1544 | 4 EA | | 03/24/2011 | O | 28.02000 | 112.08 | 150 | | AM GENERAL, LLC (34623 |
| 02769 | LOCKHEED MARTIN CORP | SPM7LX09D9039 | 8 EA | | 03/24/2011 | D | 27.03000 | 216.24 | 4 | | 5U403 10042 |
| 02769 | LOCKHEED MARTIN CORP | SPM7LX09D9039 | 49 EA | | 03/24/2011 | D | 27.03000 | 1324.47 | 4 | | 5U403 10042 |
| 02769 | LOCKHEED MARTIN CORP | SPM7LX09D9039 | 1 EA | | 03/24/2011 | D | 27.03000 | 27.03 | 4 | | 5U403 10042 |
| 02769 | LOCKHEED MARTIN CORP | SPM7LX09D9039 | 1 EA | | 03/24/2011 | D | 27.03000 | 27.03 | 4 | | 5U403 10042 |
| 02769 | LOCKHEED MARTIN CORP | SPM7LX09D9039 | 1 EA | | 03/24/2011 | D | 27.03000 | 27.03 | 4 | | 5U403 10042 |
| 02769 | LOCKHEED MARTIN CORP | SPM7LX09D9039 | 1 EA | | 03/23/2011 | D | 27.03000 | 27.03 | 5 | | 5U403 10042 |
| 02769 | LOCKHEED MARTIN DIV | SPM7LX09D9039 | 13 EA | | 03/21/2011 | D | 27.03000 | 351.39 | 4 | | 5U403 10042 |
| 02769 | LOCKHEED MARTIN DIV | SPM7LX09D9039 | 2 EA | | 03/18/2011 | D | 27.03000 | 54.06 | 4 | | 5U403 10042 |
| 02769 | LOCKHEED MARTIN CORP | SPM7LX09D9039 | 5 EA | | 03/18/2011 | D | 27.03000 | 135.15 | 3 | | 5U403 10042 |
| 02769 | LOCKHEED MARTIN CORP | SPM7LX09D9039 | 3 EA | | 03/18/2011 | D | 27.03000 | 81.09 | 3 | | 5U403 10042 |
| 02769 | LOCKHEED MARTIN DIV | SPM7LX09D9039 | 5 EA | | 03/18/2011 | D | 27.03000 | 135.15 | 3 | | 5U403 10042 |
| 02769 | LOCKHEED MARTIN DIV | SPM7LX09D9039 | 2 EA | | 03/18/2011 | D | 27.03000 | 54.06 | 4 | | 5U403 10042 |
| 02769 | LOCKHEED MARTIN CORP | SPM7LX09D9039 | 1 EA | | 03/17/2011 | D | 27.03000 | 27.03 | 4 | | 5U403 10042 |
| 02769 | LOCKHEED MARTIN CORP | SPM7LX09D9039 | 24 EA | | 03/17/2011 | D | 27.03000 | 648.72 | 4 | | 5U403 10042 |
| 02769 | LOCKHEED MARTIN DIV | SPM7LX09D9039 | 4 EA | | 03/17/2011 | D | 27.03000 | 108.12 | 4 | | 5U403 10042 |
| 02769 | LOCKHEED MARTIN CORP | SPM7LX09D9039 | 1 EA | | 03/16/2011 | D | 27.03000 | 27.03 | 5 | | 5U403 10042 |
| 02769 | LOCKHEED MARTIN CORP | SPM7LX09D9039 | 1 EA | | 03/16/2011 | D | 27.03000 | 27.03 | 5 | | 5U403 10042 |
| 02769 | LOCKHEED MARTIN CORP | SPM7LX09D9039 | 1 EA | | 03/15/2011 | D | 27.03000 | 27.03 | 6 | | 5U403 10042 |
| 02769 | LOCKHEED MARTIN CORP | SPM7LX09D9039 | 2 EA | | 03/15/2011 | D | 27.03000 | 54.06 | 2 | | 5U403 10042 |
| 02769 | LOCKHEED MARTIN DIV | SPM7LX09D9039 | 1 EA | | 03/14/2011 | D | 27.03000 | 27.03 | 2 | | 5U403 10042 |
| 02769 | LOCKHEED MARTIN DIV | SPM7LX09D9039 | 10 EA | | 03/12/2011 | D | 27.03000 | 270.30 | 2 | | 5U403 10042 |
| 02769 | LOCKHEED MARTIN CORP | SPM7LX09D9039 | 2 EA | | 03/10/2011 | D | 27.03000 | 54.06 | 4 | | 5U403 10042 |
| 02769 | LOCKHEED MARTIN CORP | SPM7LX09D9039 | 1 EA | | 03/09/2011 | D | 27.03000 | 27.03 | 2 | | 5U403 10042 |
| 02769 | LOCKHEED MARTIN CORP | SPM7LX09D9039 | 1 EA | | 03/09/2011 | D | 27.03000 | 27.03 | 5 | | 5U403 10042 |
| 02769 | LOCKHEED MARTIN CORP | SPM7LX09D9039 | 1 EA | | 03/08/2011 | D | 27.03000 | 27.03 | 2 | | 5U403 10042 |
| 02769 | LOCKHEED MARTIN CORP | SPM7LX09D9039 | 1 EA | | 03/08/2011 | D | 27.03000 | 27.03 | 6 | | 5U403 10042 |
Post Award

| Name | Contract | Award Date | Quantity | Qty Ship | Qty Var | Deliv Ext | Ship Date | Ship Recd | Days Late |
| --- | --- | --- | --- | --- | --- | --- | --- | --- | --- |
| LOCKHEED MARTIN DIV | SPM7LX09D9039 | 04/27/2011 | 40 EA | 0 | 0.0 | / / | | | |
| LANDMARK MANUFACTURI | SPM7L411M1916 | 04/14/2011 | 52 EA | 0 | 0.0 | / / | | | |
| PARTZ NETWORK | SPM7L511M1783 | 04/13/2011 | 10 EA | 0 | 0.0 | / / | | | |
| LOCKHEED MARTIN DIV | SPM7LX09D9039 | 04/11/2011 | 1 EA | 0 | 0.0 | / / | | | |
| LOCKHEED MARTIN DIV | SPM7LX09D9039 | 04/11/2011 | 1 EA | 0 | 0.0 | / / | | | |
| LOCKHEED MARTIN DIV | SPM7LX09D9039 | 04/11/2011 | 1 EA | 0 | 0.0 | / / | | | |
| LOCKHEED MARTIN DIV | SPM7LX09D9039 | 04/11/2011 | 1 EA | 0 | 0.0 | / / | | | |
| LOCKHEED MARTIN DIV | SPM7LX09D9039 | 04/08/2011 | 1 EA | 0 | 0.0 | / / | | | |
| LOCKHEED MARTIN DIV | SPM7LX09D9039 | 04/08/2011 | 1 EA | 0 | 0.0 | / / | | | |
| LOCKHEED MARTIN DIV | SPM7LX09D9039 | 04/07/2011 | 5 EA | 0 | 0.0 | / / | | | |
| LOCKHEED MARTIN DIV | SPM7LX09D9039 | 04/07/2011 | 2 EA | 0 | 0.0 | / / | | | |
| LOCKHEED MARTIN DIV | SPM7LX09D9039 | 04/07/2011 | 1 EA | 0 | 0.0 | / / | | | |
| LOCKHEED MARTIN DIV | SPM7LX09D9039 | 04/06/2011 | 1 EA | 0 | 0.0 | / / | | | |
| LOCKHEED MARTIN DIV | SPM7LX09D9039 | 04/06/2011 | 2 EA | 0 | 0.0 | / / | | | |
| LOCKHEED MARTIN DIV | SPM7LX09D9039 | 04/04/2011 | 1 EA | 0 | 0.0 | / / | | | |
| LOCKHEED MARTIN DIV | SPM7LX09D9039 | 04/04/2011 | 1 EA | 0 | 0.0 | / / | | | |
| LOCKHEED MARTIN DIV | SPM7LX09D9039 | 04/03/2011 | 2 EA | 0 | 0.0 | / / | | | |
| LOCKHEED MARTIN DIV | SPM7LX09D9039 | 04/02/2011 | 14 EA | 0 | 0.0 | / / | | | |
| LOCKHEED MARTIN DIV | SPM7LX09D9039 | 04/01/2011 | 8 EA | 0 | 0.0 | / / | | | |
| LOCKHEED MARTIN DIV | SPM7LX09D9039 | 03/31/2011 | 2 EA | 0 | 0.0 | / / | | | |
| LOCKHEED MARTIN DIV | SPM7LX09D9039 | 03/28/2011 | 1 EA | 0 | 0.0 | / / | | | |
| LOCKHEED MARTIN DIV | SPM7LX09D9039 | 03/26/2011 | 15 EA | 0 | 0.0 | / / | | | |
| LOCKHEED MARTIN DIV | SPM7LX09D9039 | 03/26/2011 | 3 EA | 0 | 0.0 | / / | | | |
| LOCKHEED MARTIN DIV | SPM7LX09D9039 | 03/25/2011 | 1 EA | 0 | 0.0 | / / | | | |
| LOCKHEED MARTIN DIV | SPM7LX09D9039 | 03/25/2011 | 2 EA | 0 | 0.0 | / / | | | |
| AM GENERAL LLC | SPM7L511V1544 | 03/24/2011 | 4 EA | 0 | 0.0 | / / | | | |
| LOCKHEED MARTIN DIV | SPM7LX09D9039 | 03/21/2011 | 13 EA | 0 | 0.0 | / / | | | |
| LOCKHEED MARTIN DIV | SPM7LX09D9039 | 03/18/2011 | 2 EA | 0 | 0.0 | / / | | | |
| LOCKHEED MARTIN DIV | SPM7LX09D9039 | 03/18/2011 | 5 EA | 0 | 0.0 | / / | | | |
| LOCKHEED MARTIN DIV | SPM7LX09D9039 | 03/18/2011 | 2 EA | 0 | 0.0 | / / | | | |
| LOCKHEED MARTIN DIV | SPM7LX09D9039 | 03/17/2011 | 4 EA | 0 | 0.0 | / / | | | |
| LOCKHEED MARTIN DIV | SPM7LX09D9039 | 03/14/2011 | 1 EA | 0 | 0.0 | / / | | | |
| LOCKHEED MARTIN DIV | SPM7LX09D9039 | 03/12/2011 | 10 EA | 0 | 0.0 | / / | | | |
Technical Characteristics

| MRC | Question | Answer |
| --- | --- | --- |
| AGAV | END ITEM IDENTIFICATION | DIESEL ENGINE |
| AJKD | NONSUPPLY ITEMS & QUANTITIES | W/RING GEAR |
CAGE Information
CAGE
Name
St
Phone
Fax
Contact
Email/Web Site
City State
02769
LOCKHEED MARTIN DIV MS2
A
(856) 722-4615
(856) 722-4619
DEBBIE KISTER
deborah.p.kister@lmco.com
http://www.lockheedmartin.com
MOORESTOWN, NJ
11862
GENERAL MOTORS CORP CHEVROLET MOTOR DIV SPECIAL PRODUCTS DEPT
H
WARREN, MI
34623
AM GENERAL LLC
A
(574) 258-6636
(574) 258-6602
JOHN ROMANO/SR. MANA
SPLOCCS@AMGENERAL.COM
MISHAWAKA, IN
5U403
LANDMARK MANUFACTURING CORPORATION
A
(660) 663-8833
(660) 663-2417
JAMES CRITTEN
jamesc@landmarkfab.com
GALLATIN, MO
5UMJ8
PARTZ NETWORK
A
(609) 699-4812
(609) 543-2540
JOHN J. MELTON
john.melton@partznetwork.com
BURLINGTON, NJ
79398
WOHLERT CORP
F
(231) 941-8833
TRAVERSE CITY, MI
7X677
GENERAL MOTORS
A
(248) 566-1850
(810) 606-3609
TIM RYAN
timothy.w.ryan@gm.com
GRAND BLANC, MI
9009H
INSPEKTORAT WSPARCIA SIL ZBROJNYCH
A
48 523786300
48 523786296
BYDGOSZCZ, POLAND
SCY13
E.C.A ETABLISSEMENT CENTRAL DES APPROVISIONNEMENTS DES FORCES ARMEES
A
00 212 36 41 60
CASABLANCA, MOROCCO
Drawings

| CAGE | Name | Drawing No. | Rev | DDC | Digital | Pages | Recv Date | Title |
| --- | --- | --- | --- | --- | --- | --- | --- | --- |
| 5U403 | LANDMARK MANUFACTURING CORPORATION | 10042 | A | | No | 1 | / / | |
Source of Supply

| Origin | CAGE and Name | Status | Awards |
| --- | --- | --- | --- |
| Awards | 02769-LOCKHEED MARTIN DIV MS2 | A | 512 |
| Awards | 79343-SAIC | A | 500 |
| Awards | 55683-WHEELER BROS. INC. | A | 18 |
| Awards/MCRD | 5U403-LANDMARK MANUFACTURING CORPORATION | A | 17 |
| Awards/MCRD | 34623-AM GENERAL LLC | A | 8 |
| Awards | 5V292-LAYMAN BOBBY CHEVROLET INC | A | 4 |
| Awards | 1JQZ6-AUGUSTA ENGINE PARTS INC | A | 3 |
| Awards/MCRD | 7X677-GENERAL MOTORS | A | 2 |
| Awards | 3QKF5-PARTZ NETWORK LLC DIV PARTZ LOGISTICS LLC | A | 2 |
| Awards | 5UMJ8-PARTZ NETWORK | A | 1 |
| Awards | 3NNX8-BRIGHTON CROMWELL LLC | A | 1 |
| Awards | 2S535-AM GENERAL CORP | R | 1 |
| Awards | 23862-MILITARY VEHICLES OPN GENERAL MOTORS TRUCK AND BUS GROUP MS | A | 1 |
| Awards | 1T8R1-GEAR WIZZARD INC. | A | 1 |
| Awards | 1AV08-JAY AUTOMOTIVE SPECIALTIES INC | A | 1 |
| Awards | 0NJT4-RUTA SUPPLIES INC. | A | 1 |
| MCRD | SCY13-E.C.A ETABLISSEMENT CENTRAL DES APPROVISIONNEMENTS DES FORCE | A | 0 |
| MCRD | 79398-WOHLERT CORP | F | 0 |
| MCRD | 11862-GENERAL MOTORS CORP CHEVROLET MOTOR DIV SPECIAL PRODUCTS DEP | H | 0 |
Alternate Suppliers

| CAGE and Name | Status | Phone | Contact | Email | Awards |
| --- | --- | --- | --- | --- | --- |
| 34623-AM GENERAL LLC | A | (574) 258-6636 | JOHN ROMANO/SR. MANAGER OF CON | SPLOCCS@AMGENERAL.COM | 22 |
| DA601-HAHN CATERING ZELT GMBH | A | 09841401721 | | | 12 |
| DA401-MESSNER GEBAEUDETECHNIK GMBH | A | (091) 316-8700 | ROLAND GOESSWEIN | roland.goesswein@messner.de | 12 |
| DA809-EPPER H. GMBH & CO. KG MASCHINEN- UND ANLAGENBAU | A | (065) 619-5160 | | | 8 |
| DA101-BAUER JOSEF | A | 068167434 | | | 5 |
| 1B318-W W WILLIAMS | A | (614) 527-8987 | CASSIE LARGE | clarge@wwwilliams.com | 3 |
| 0B8S3-CUMMINS INC. | A | (812) 377-7437 | BARRY C. DAVIS | barry.c.davis@cummins.com | 2 |
| 08LF6-ATLAS EQUIPMENT SALES | A | (914) 420-6800 | ROGER CHHABRA | roger@neogenerations.com | 2 |
| 04MP1-CUMMINS MID-SOUTH L.L.C. | A | (901) 577-0600 | LOUIS ZINC | louie.zinc@cummins.com | 2 |
| 9R205-ARLO CORPORATION | A | (973) 618-0030 | AL ARANOWITZ | arlocorp@hotmail.com | 1 |
| 2B144-WHEELER BROS INC | R | | | | 1 |
| 8A334-CUMMINS BRIDGEWAY | A | (440) 735-2109 | PAUL LESTESHEN | paul.l.lesteshen@cummins.com | 1 |
| 06YZ5-FORD | A | (414) 321-3100 | MARK LEVERITT | jml2@badgertruck.com | 1 |
| DA116-REUTER LUDWIG INH. KURT STRENZ | A | 069446367 | | | 1 |
| 8K151-PENINSULAR DIESEL INC | A | (313) 584-6150 | | | 1 |
| 70253-QUICKWAY INTERNATIONAL INC | A | (419) 281-4025 | | | 1 |
| 1N0Q1-HMS | A | (908) 689-8980 | LORRAINE D OLLA | sales@hmscorp.net | 1 |
| 41345-MOORE EQUIPMENT CO INC | A | (209) 957-0007 | | | 1 |
| 62860-PENN DETROIT DIESEL ALLISON LLC | A | (877) 736-6332 | KIMBERLY JUSTUS | kjustus@penndda.com | 1 |
PartsMaster Inventory (Data not available)
PartsMaster Capability (Data not available)
Latest PID/Packaging Info
PID
PID: FLYWHEEL ASSEMBLY, AUTOMATIC TRANSMISSION.
USED ON GMC 6.2 LITER SERIES DIESEL ENGINES.
AM GENERAL, LLC 34623 P/N 5740037
LANDMARK MANUFACTURING CORPORATION 5U403 P/N 10042
GENERAL MOTORS LLC 7X677 P/N 14077157
Buyer Fax: (614) 693-1574
Buyer Fax: (614) 693-1574
Rating: DOA4
FOB: ORIGIN
QUP = 001: PRES MTHD = 20: CLNG/DRY = 1: PRESV MAT = 49: WRAP MAT =
XX: CUSH/DUNN MAT = XX: CUSH/DUNN THKNESS = X: UNIT CONT = E5: OPI =
O: INTRMDTE CONT = DO: INTRMDTE CONT QTY = AAA: PACK CODE = Q:
PACKING LEVEL = B: MARKING SHALL BE IN ACCORDANCE WITH MIL-STD-129.
SPECIAL MARKING CODE: 00 - PALLETIZATION SHALL BE IN ACCORDANCE WITH
MD00100452 REV B DATED 08183 FOR ALL SHIPMENTS OF PACKAGED MATERIEL
TO THE GOVERNMENT, WHICH INCLUDES EITHER DEPOT (DLA-DIRECT) OR DVD
(CUSTOMER-

------------------- Distribution Instructions --------------------
0001 5 AWD+20 (20 1 49 XX XX X E5) 001 B Q DO
Dest: -
0002 5 AWD+20 (20 1 49 XX XX X E5) 001 B Q DO
Dest: -
0003 41 AWD+20 (20 1 49 XX XX X E5) 001 B Q DO
Dest: -
Pictures and Illustrations
Pictures (click to enlarge)
Generic Illustrations:
Technical Manuals

| TM No. | Pages with NSN | Pages with Figures | Item | Quantity |
| --- | --- | --- | --- | --- |
| TM9-2815-237-34P.PDF | 33, 132, 147 | 147 | 1 | |
| TM9-2320-289-34P.PDF | 717, 806, 868 | 717, 806, 868 | 57 | |
| TM9-2320-387-24P.PDF | 43 | | | |
Technical Manual Pages
TM Drawings (click for larger view)
TM9-2320-289-34P: Page 1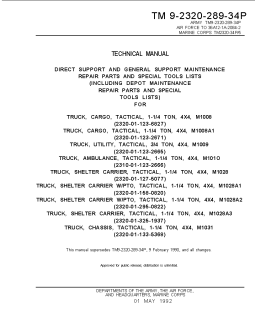 Page 24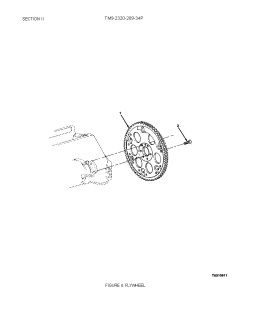 Page 717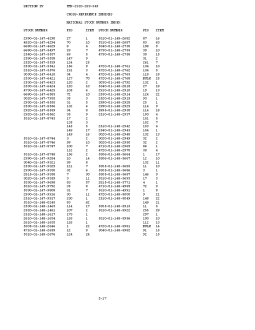 Page 806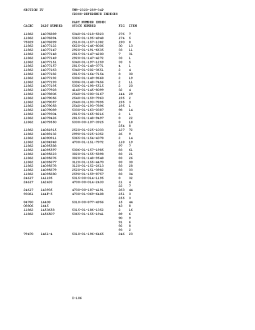 Page 868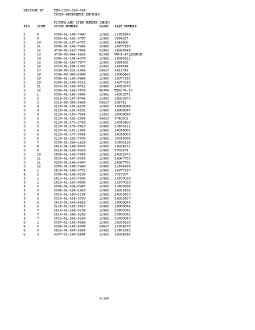 Phrase Data (Data not available)
Freight Data

| Activ Cd | NMFC | SUB ITM | UFCCD MODF | HMC | Class Rtg | LS-CRLD | RAIL VARI | WTR COM | TYP CGO | SPC HAND | AIR DIM | AIT-CMDTY | INTGTY-CD | FR DESC |
| --- | --- | --- | --- | --- | --- | --- | --- | --- | --- | --- | --- | --- | --- | --- |
| GX | 133090 | X | 67320 | | Q | | | 593 | Z | 9 | A | VZ | | |
MOE Rule Codes

| Rule | AMC | AMSC | NIMSC | Eff. Date | IMC | IMCA | AAC | SUPP-COLL | SUPP-RCVR | DSOR |
| --- | --- | --- | --- | --- | --- | --- | --- | --- | --- | --- |
| A920 | 1 | H | | 2006213 | Z | AZ | | | AJ AZ BD | |
| FGGC | 1 | H | | 2006213 | Z | TG | | | | |
| MC40 | 1 | H | | 2006213 | Z | PA | | | | |
| N9BC | 1 | H | | 2006213 | Z | GH | | GT | | |
| WI01 | | | | 2000183 | | | | | | |
| WL01 | | | | 2005032 | | | | | | |
| WP01 | | | | 2009091 | | | | | | |
| YB01 | | | | 1997121 | | | | | | |
| YP01 | | | | 2008306 | | | | | | |
| ZH01 | | | | 1991091 | | | | | | |
| ZM01 | | | | 2000214 | | | | | | |
| ZS01 | | | | 1996061 | | | | | | |
| ZU01 | | | | 2006091 | | | | | | |
| ZW01 | | | | 2003274 | | | | | | |
Surplus

| Date | Quantity | Condition | Value | Location | DTID |
| --- | --- | --- | --- | --- | --- |
| / / | 7 EA | | 0.00 | PENDLETON | MMC10091261856 |
| / / | 5 EA | | 0.00 | PENDLETON | MMC1009126D856 |
| / / | 12 EA | | 0.00 | OKINAWA JAPAN | MMR1000074B106 |
| / / | 6 EA | | 0.00 | NORFOLK | N456276342P016 |
| / / | 1 EA | | 0.00 | MEADE | W9046W0340208P |
| / / | 1 EA | | 0.00 | STOCKTON | M3361010820059 |
| 08/29/2007 | 1 EA | F7 | 30.19 | | W91G6571161996 |
| 05/09/2008 | 1 EA | A4 | 2.69 | | W90XKT62416151 |
| 05/09/2008 | 1 EA | A4 | 14.28 | | W9046W7248989W |
| 10/03/2008 | 1 EA | A1 | 36.68 | | MMV2008106D723 |
| 11/15/2008 | 1 EA | A4 | 42.32 | | W81KJJ71940002 |
| / / | 1 EA | | 0.00 | | |
| 12/02/2010 | 2 | | 0.00 | Lockbourne, OH | |
| 03/10/2011 | 6 | A1 | 38.81 | Lockbourne, OH | |
End Item

| NIIN/Code | Description |
| --- | --- |
| 012313672 | PCCN CHMMWV 1 1/4 TON |
| 012313672 | PCCN CHMMWV 1 1/4 TON |
| 013147940 | ENGINE AND CONTAINE |
| 014109710 | ENGINE WITH CONTAIN |
| 19F | AIRCRAFT, EAGLE F-15 |
| 34N | COMBAT SYSTEM SUPPORT EQUIPMENT |
| 75A | VEHICLE, COMMERCIAL UTILITY CARGO (CUCV) |
| 80A | TRUCK, VEHICLE SYSTEM, 1 1/4-TON (HMMWV) |
| ARN | SHIPBOARD MATERIAL HANDLING EQUIPMENT (MHE) |
| DGF | "TRACTOR, AIRCRAFT TOWING, MB-4" |
| QRM | TRUCK, UTILITIES, TOW CARRIER-W/SA, 1 1/4 TON, W/WINCH, HMMWV |